1 ounce Gold

Gold Bullion Bars for Sale
Product
Dealer
Price

*

Gold bar
1 oz


PAMP Suisse

LBMA certified

GOLD AVENUE
5.0/5.0 (2 Reviews)
Shipping from

£ 45.00

£ 1,642.60


Total from

£ 1,687.60

» open Report issue
Gold bar
1 oz


PAMP Suisse

LBMA certified

GOLD AVENUE
5.0/5.0 (2 Reviews)
Shipping from

£ 45.00

£ 1,667.51


Total from

£ 1,712.51

» open Report issue
Gold bar
1 oz

GOLD AVENUE
5.0/5.0 (2 Reviews)
Shipping from

£ 45.00

£ 1,676.34


Total from

£ 1,721.34

» open Report issue
Gold bar
1 oz


PAMP Suisse

LBMA certified

GOLD AVENUE
5.0/5.0 (2 Reviews)
Shipping from

£ 45.00

£ 1,676.50


Total from

£ 1,721.50

» open Report issue
Gold bar
1 oz


PAMP Suisse

LBMA certified

GOLD AVENUE
5.0/5.0 (2 Reviews)
Shipping from

£ 45.00

£ 1,741.31


Total from

£ 1,786.31

» open Report issue
Legend: Over the counter Yes/No Reviews
Dealer prices updated: 09/12/2023 - 2:30pm Uhr, Shipping prices updated: 08/12/2023 - 8:00am
* The indicated prices are inclusive of any applicable VAT plus the separately stated shipping costs.
** The indicated purchase prices are less any applicable shipping costs.
1 ounce gold bar

The troy ounce is the standardised measurement for gold bullion. This measurement only accounts for the actual pure gold content, so a one ounce gold bar actually weighs a little more than an regular ounce. This is because all gold contains at least traces of other materials. Because apothecaries used a system of weights that were similar, a troy ounce is sometimes called an apothecary ounce. They mean the same thing. The international gold price is based on the troy ounce with a fineness indication of .995.
A troy ounce is the equivalent of 31.103 grams. Many mints produce gold bullion with a higher purity level, so while the price of gold is determined based on the 99.5% purity level, gold bars often feature a higher level of fineness. This makes them worth a little more than their less pure counterparts, but only by a small amount.

Because one ounce bars are the standard of measure for gold bullion, these are very popular with both investors and collectors. As with all officially sanctioned gold bars, these come in standardised dimensions, as well as in standardised weights. Each bar is 31 mm in length, 18 mm in width, and 1 mm in depth. Each one also bears an inscription indicating the fineness of the gold, its weight, and information relating to the refinery where it was produced. Gold bullion bars also come with a certificate of authenticity. Although the bars are marked as weighing one ounce, this is referring to troy ounces. The actual weight is a little more than a normal ounce.

Features of each bar
Weight in ounces: 1= 31.103 grams
Dimensions in millimetres: 31x18x1
Weight in ounces: .32
Gold price Chart - Gold bar 1 ounce
Chose the desired time period:
All product ratings for 1 ounce Gold
Unfortunately there are no reviews for this product yet.
Submit first rating now
Advertisement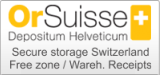 Price comparison
Gold coins (15)
Gold bars (11)
Silver coins (13)
Silver bars (6)
VAT free Silver (2)
Platinum coins (3)
Platinum bars (2)
Palladium coins (1)
Palladium bars (2)
Advertisement