10 ounces

Gold Bullion Bars for Sale
Product
Dealer
Price

*

Your current choice is not offered by any vendor at present.
Legend: Over the counter Yes/No Reviews
Dealer prices updated: 26/05/2022 - 5:30pm Uhr, Shipping prices updated: 25/05/2022 - 8:00am
* The indicated prices are inclusive of any applicable VAT plus the separately stated shipping costs.
** The indicated purchase prices are less any applicable shipping costs.
10 ounce gold bar

Since the 1850s, gold has been found in various parts of Australia. The most notable finds tended to be in Western Australia, New South Wales and Victoria. A series of gold rushes brought gold fever to people worldwide who headed for the Australian continent, and the first two finds were in close proximity to another. The Bathurst area in New South Wales set off the chain of historic events. A land survey who was mapping out the land made the first official report of finding gold. Earlier reports had occurred, but some of these are now thought to have been hoaxes. New finds occurred intermittently until the early 1900s. The last reported finding was in 1906 when a miner in Tarnagulla, Victoria found several large nuggets of gold deep within a mine shaft.

Bars that weigh 10 ounces are typically kept in a bank depository because of their substantial value. They come in standardised dimensions, as well as in standardised weights. Each bar is 58 mm in length, 37 mm in width, and 9.5 mm in depth. Each one also bears an inscription indicating the fineness of the gold, its weight, and information relating to the refinery where it was produced. Gold bullion bars also come with an assayer that verfies its purity. This serves as a certificate of authenticity.

Features of each bar
Weight in ounces: 10
Dimensions in millimetres: 58x37x9.5
material, weight, refiner and certification
Gold price Chart - Gold bar
Chose the desired time period:
All product ratings for 10 ounces
Unfortunately there are no reviews for this product yet.
Submit first rating now
Advertisement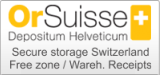 Price comparison
Gold coins (14)
Gold bars (11)
Silver coins (10)
Silver bars (6)
Platinum coins (2)
Platinum bars (6)
Palladium bars (3)
Advertisement