50 grams

Gold Bullion Bars for Sale
Product
Dealer
Price

*

Gold bar
50 g


PAMP Suisse

LBMA certified

GOLD AVENUE
5.0/5.0 (2 Reviews)
Shipping from

£ 45.00

£ 2,453.83


Total from

£ 2,498.83

» open Report issue
Gold bar
50 g


PAMP Suisse

LBMA certified

GOLD AVENUE
5.0/5.0 (2 Reviews)
Shipping from

£ 45.00

£ 2,466.55


Total from

£ 2,511.55

» open Report issue
Gold bar
50 g


LBMA certified

Gold Investments Ltd.
0.0/5.0 (0 Reviews)
Shipping from

£ 10.00

£ 2,539.69


Total from

£ 2,549.69

» open Report issue
Gold bar
50 g

The Royal Mint
0.0/5.0 (0 Reviews)
Shipping from

£ 3.00

£ 2,540.60


Total from

£ 2,543.60

» open Report issue
Gold bar
50 g

Gold Investments Ltd.
0.0/5.0 (0 Reviews)
Shipping from

£ 10.00

£ 2,563.64


Total from

£ 2,573.64

» open Report issue
Legend: Over the counter Yes/No Reviews
Dealer prices updated: 27/06/2022 - 1:20am Uhr, Shipping prices updated: 26/06/2022 - 8:00am
* The indicated prices are inclusive of any applicable VAT plus the separately stated shipping costs.
** The indicated purchase prices are less any applicable shipping costs.
50 gram gold bar

Long before gold was minted into coins to use as currency, gold was being used by the ancient Egyptians for a variety of different purposes. During the Roman empire, it was first pressed into bars. The moulds the Romans used were most likely made from clay. It was not until the Bank of England established a system of officially minting gold for its reserves that gold was standardised into single units that had a defined value. The guinea was the first standardised unit of gold in the modern world. By the late 1700s gold became scarce, and until the gold rushes of the 1800s, it remained an elusive material. Once the gold rush era went into full swing, gold was cast into larger moulds. Four hundred ounce bars came into use during this time. Today, gold is available in a variety of weights and measures to make it easy for investors and collectors to choose their preferred amount of this noble metal.

Fifty gram gold bullion bars are popular among investors and collectors. They come in standardised dimensions, as well as in standardised weights. Each bar is 45 mm in length, 25 mm in width, and 2.3 mm in depth. Each one also bears an inscription indicating the fineness of the gold, its weight, and information relating to the refinery where it was produced. Gold bullion bars also come with a certificate of authenticity.

Features of each bar
Weight in ounces: 1.61
Dimensions in millimetres: 45x25x2.3
Gold price Chart - Gold bar 50 grams
Chose the desired time period:
All product ratings for 50 grams
Unfortunately there are no reviews for this product yet.
Submit first rating now
Advertisement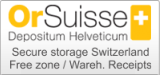 Price comparison
Gold coins (14)
Gold bars (11)
Silver coins (10)
Silver bars (5)
Platinum coins (1)
Platinum bars (6)
Palladium bars (3)
Advertisement