1/2 ounce

Gold Bullion Bars for Sale
Product
Dealer
Price

*

Your current choice is not offered by any vendor at present.
Legend: Over the counter Yes/No Reviews
Dealer prices updated: 26/05/2022 - 6:20pm Uhr, Shipping prices updated: 25/05/2022 - 8:00am
* The indicated prices are inclusive of any applicable VAT plus the separately stated shipping costs.
** The indicated purchase prices are less any applicable shipping costs.
1/2 ounce gold bar

The history of gold as a tool for investment goes far back into ancient times. Throughout the history of civilisation, gold has been used as currency and its value was a standardised way to trade among different cultures. Before the 20th century, the paper money issued by various governments was backed by actual gold reserves, and people could actually trade their paper currency in for its actual value in gold. Even though the gold standard stopped being used to back currency during the 20th century, investors have continued to use gold to protect their assets from the fluctuating values of paper currency. That type of money is subject to inflation and deflation, depending on how much money a government decides to print. Investors choose gold because is not subject to such extremes, and many people use these investments to provide a safe-haven against fluctuating stock values.

The half ounce gold bullion bar weighs exactly a half a troy ounce. These bars are always inscribed with indications noting the material, fineness, weight, and the refiner that produced them. Each one also comes with a certificate of authenticity. Various mints opt to use different markings to distinguish their bars from those produced at other mints, so certain variations are to be expected. Some mints, however, choose to leave minimal impressions on their bars. Those will only list the most basic information relating to the contents of the bar.

Features of each bar
Weight in ounces: .05
Dimensions in millimetres: 45x25x2
Gold price Chart - Gold bar
Chose the desired time period:
All product ratings for 1/2 ounce
Unfortunately there are no reviews for this product yet.
Submit first rating now
Advertisement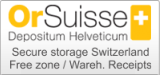 Price comparison
Gold coins (14)
Gold bars (11)
Silver coins (10)
Silver bars (6)
Platinum coins (2)
Platinum bars (6)
Palladium bars (3)
Advertisement