Britannia

Gold Coins for Sale
Product
Dealer
Price

*

Britannia
1 oz


various

GOLD AVENUE
5.0/5.0 (2 Reviews)
Shipping from

£ 45.00

£ 1,684.62


Total from

£ 1,729.62

» open Report issue
Britannia
1 oz


various

GOLD AVENUE
5.0/5.0 (2 Reviews)
Shipping from

£ 45.00

£ 1,701.25


Total from

£ 1,746.25

» open Report issue
Britannia
1 oz


2024

The Royal Mint
0.0/5.0 (0 Reviews)
Shipping from

£ 3.00

£ 1,738.81


Total from

£ 1,741.81

» open Report issue
Britannia
1 oz


2022

The Royal Mint
0.0/5.0 (0 Reviews)
Shipping from

£ 3.00

£ 11,100.00


Total from

£ 11,103.00

» open Report issue
Britannia
1 oz


2024

Gold Investments Ltd.
0.0/5.0 (0 Reviews)
Shipping from

£ 10.00

£ 165,875.00


Total from

£ 165,885.00

» open Report issue
Legend: Over the counter Yes/No Reviews
Dealer prices updated: 09/12/2023 - 2:30pm Uhr, Shipping prices updated: 08/12/2023 - 8:00am
* The indicated prices are inclusive of any applicable VAT plus the separately stated shipping costs.
** The indicated purchase prices are less any applicable shipping costs.
Britannia silver coins date back to the Roman times when the Emperors carried them as early as 119AD. The Britannia is the personification of the British Isles, the goddess of passion and war. In the 17th century she made a resurgence on the copper coins, and in 1987 the gold coin was struck with the silver coin following in 1997. The coins are struck annually and minted in tenth, quarter, half, and full Troy ounces with the front changing every year. Since 2013 the coins boast a different design each year, while the bullion coins continue to feature the standing Britannia.
Technical Data About Britannia Gold Coins:

Mint: British Royal Mint Denomination: Gold: £5, £10, £25, £50, £100, £500 Silver: 10p, 20p, 50p, £1, £2, £10Precious Metal: .9999/1000 gold, .999/1000 silver Weight: Gold: 1/20oz, 1/10oz, 1/4oz, 1oz, 5oz Silver: (1997-2012) 32.45g (2013) 31.21g Diameter: Gold: 12mm, 16.50mm, 22mm, 27mm, (1oz 2013) 38.61mm, (1oz 2014) 32.69mm, 65mm Silver: (1997-2012) 40.00mm (2013) 38.61mm Thickness: Gold: 1.58mm-1.65mm, 1.69mm Silver: 2.97mm-2.98mm, 3mm Edge: Serrated

Front Motif: Changes every year.

Reverse Motif: Britannia standing with a trident in her right hand, resting her left hand on a shield. The fineness, weight, and year are featured.
You can see the historical prices for the Britannia in the chart section.
Subsequent is the price comparison: Buy Britannia gold coin.
Images for Britannia
Courtesy of APMEX.com
Gold price Chart - Britannia 1 ounce
Chose the desired time period:
All product ratings for Britannia
Unfortunately there are no reviews for this product yet.
Submit first rating now
Other products of manufacturer Royal Mint
Advertisement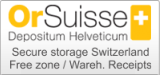 Price comparison
Gold coins (15)
Gold bars (11)
Silver coins (13)
Silver bars (6)
VAT free Silver (2)
Platinum coins (3)
Platinum bars (2)
Palladium coins (1)
Palladium bars (2)
Advertisement