Corona

Gold Coins for Sale

Legend: Over the counter Yes/No Reviews

Dealer prices updated: 05/06/2020 - 1:20pm Uhr, Shipping prices updated: 04/06/2020 - 8:00am

* The indicated prices are inclusive of any applicable VAT plus the separately stated shipping costs.
** The indicated purchase prices are less any applicable shipping costs.

Struck in 1892, these coins were minted in 10 and 20 fillér, then again in 1919, 1920, and 1921 with the Körmöcbánya mint mark and year. They are among the easiest encountered coins in Hungary with the 10 Korona being the hardest to find because they were only minted for twenty-five years. These coins were minted to commemorate the crowning of Emperor Franz Josef the first Austrian Emperor. The Hungarian gold Korona has a gold content of .1960 troy oz.

Technical Data About Hungary Gold Korona:

Mint: Hungarian Mint Ltd. Denomination: 10 and 20 korona Precious Metal: .900/1000 for both in gold Weight:3.3875g, 6.775g Diameter: 18.9mm, 20 mm Thickness: 1.9 mm, 1.5 mm Edge: Milled

Front Motif: The Emperor Franz Josef I. He was also the Emperor of Austria, the Apostolic King of Hungry, and the King of Bohemia from 1848 to 1916. He is standing full length, facing the right.

Reverse Motif: The coat of arms for Habsburgs, the ruling family of the era with angels on both sides.

You can see the historical prices for the Corona in the chart section.
Subsequent is the price comparison: Buy Corona gold coin.
Gold price Chart - Corona 100 Corona
Chose the desired time period:
All product ratings for Corona
Unfortunately there are no reviews for this product yet.
Submit first rating now
Advertisement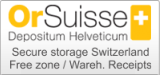 Price comparison
Gold coins (33)
Gold bars (13)
Gold CombiBars (1)
Gold coin bars (1)
Silver coins (20)
Silver bars (13)
Silver coin bars (1)
Platinum coins (1)
Platinum bars (6)
Palladium bars (2)
Advertisement