French Francs

Gold Coins for Sale

Legend: Over the counter Yes/No Reviews

Dealer prices updated: 26/05/2022 - 7:30pm Uhr, Shipping prices updated: 25/05/2022 - 8:00am

* The indicated prices are inclusive of any applicable VAT plus the separately stated shipping costs.
** The indicated purchase prices are less any applicable shipping costs.

The first French franc was struck in 1360 when King John was ransomed from British captivity. Franc coins were discontinued and fell out of use in 1642 when the franc was replaced with the Louis d'or and Eco although the name franc continued to be used. Francs were revived during the revolutionary era in 1795 when they were adopted as the official currency of France. In 1879 the franc was placed under government control for exclusive minting rights. Throughout history, the franc has undergone many changes of motifs, metals, value, weights, thicknesses, and millesimal fineness until France adopted the euro as its official currency in 2002.

Technical Data About the Latest French Francs:

Mint: Monnaie de Paris Denomination: 5, 10, 20 centimes, ½₣, 1₣, 2₣, 5₣, 10₣, 20₣, 40₣, 50₣, 100₣ Monnaies de Luxe, and 100₣ Precious Metal: Made of varying metals such as copper, bronze, aluminum, and silver each with their own millesimal finenesses. Gold fineness 5₣ to 100₣: .0467, .933, .1867, .3734, .4667, .5028, .9355/1000 Weight:Gold: 5₣ to 100₣: 1.61g, 3.2g, 6.4g, 12.91g, 16.1g, 17g, 32.2g Diameter: Gold 5₣ to 100₣: 16mm, 16.5mm, 21mm, 26mm, 29mm, 30mm, 34mm Thickness: Ranges from 1.7mm to 2.2mm Edge: Smooth

Front Motif: The first coin was of King John on horseback, and once the franc was abolished the motif changed with almost every minting.

Reverse Motif: Depicted King John on horseback, and then changed with almost every minting after the franc was done away with in 1642.

You can see the historical prices for the French Francs in the chart section.
Subsequent is the price comparison: Buy French Francs gold coin.
Gold price Chart - French Francs 20 Francs
Chose the desired time period:
All product ratings for French Francs
Unfortunately there are no reviews for this product yet.
Submit first rating now
Advertisement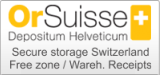 Price comparison
Gold coins (14)
Gold bars (11)
Silver coins (10)
Silver bars (6)
Platinum coins (2)
Platinum bars (6)
Palladium bars (3)
Advertisement