German Goldeuro

Gold Coins for Sale
Product
Dealer
Price

*

Your current choice is not offered by any vendor at present.
Legend: Over the counter Yes/No Reviews
Dealer prices updated: 26/05/2022 - 6:30pm Uhr, Shipping prices updated: 25/05/2022 - 8:00am
* The indicated prices are inclusive of any applicable VAT plus the separately stated shipping costs.
** The indicated purchase prices are less any applicable shipping costs.
Germany started using euros as currency in 2002. The gold coin euros have the same design with the twelve stars of the European Union and the year of imprint. All coins also have a mint mark of a small letter representing that minted coin's origin, such as A for Berlin, D for Munich, F for Stuttgart, G for Karlsruhe, and J for Hamburg. The gold euro coins are the €0.10, €0.20, €0.50.
Technical Data About Germany Goldeuro Coins:

Mint: Verkaufsstelle fur Sammlermunzen der Bundesrepublik Denomination: €0.10, €0.20, €0.50 Precious Metal:Nordic gold (89% copper - 5% aluminum - 5% zinc - 1% tin) Weight: 4.1g, 5.74g, 7.8g Diameter: 19.75mm, 22.25mm, 24.25mm Thickness: 1.93mm, 2.14mm, 2.38mm Edge: With fine scallops (40 scallops), Spanish flower shape, finely scalloped (50 scallops)

Front Motif: Twelve stars surround The Brandenburg Gate with the year of issue and the corresponding letter of mint.

Reverse Motif: A map of the European Union surrounded by twelve stars with six lines passing through, and the designer's initials.
You can see the historical prices for the German Goldeuro in the chart section.
Subsequent is the price comparison: Buy German Goldeuro gold coin.
Images for German Goldeuro
Courtesy of APMEX.com
Gold price Chart - German Goldeuro
Chose the desired time period:
All product ratings for German Goldeuro
Unfortunately there are no reviews for this product yet.
Submit first rating now
Advertisement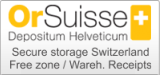 Price comparison
Gold coins (14)
Gold bars (11)
Silver coins (10)
Silver bars (6)
Platinum coins (2)
Platinum bars (6)
Palladium bars (3)
Advertisement