Lunar Series I

Gold Coins for Sale
Product
Dealer
Price

*

Your current choice is not offered by any vendor at present.
Legend: Over the counter Yes/No Reviews
Dealer prices updated: 26/05/2022 - 7:30pm Uhr, Shipping prices updated: 25/05/2022 - 8:00am
* The indicated prices are inclusive of any applicable VAT plus the separately stated shipping costs.
** The indicated purchase prices are less any applicable shipping costs.
The Lunar I series is no longer in production, although the Lunar II series has served as a seamless continuation of the first. These were produced by the Perth Mint from 1996 through 2007 in a series of twelve. Each year featured a different animal corresponding to the Chinese lunar calendar. Each one features quality embossing, and originally came in a high-quality wooden storage case.
Technical data about Lunar I coins:

Mint: Perth Mint Denomination: AUD 5 , 15 AUD, AUD 25 50 AUD 100 AUD 200 AUD 1,000 AUD 3,000 AUD 30,000 AUD Precious Metal: 999.9 / 1000 gold Weight: 1/20 ounce , 1/10 ounce , 1/4 ounce , 1/2 ounce , 1 ounce, two ounces , 10 ounces, 1 kg 10 kg Diameter: 14.8 mm , 18.6 mm, 22.6 mm , 30, 6 mm, 39.34 mm, 41.1 mm, 75.6 mm, 100.6 mm and 180.6 mm Thickness: 1.4 mm, 2.0 mm, 2.2 mm , 2.5 mm, 2.5 mm , 3.9 mm , 6.0 mm , 9.0 mm and 25.0 mm Edge:Serrated

Front Motif: Each coin features a portrait of the queen on the front with the inscription Elizabeth II Australia and the nominal value specified near the bottom.

Reverse Motif: On the reverse of each coin is an animal motif corresponding to that year's the Lunar calendar animal designation. Each one also features the year of issue, and has fine weight and fineness of 9999 Gold inscribed.
You can see the historical prices for the Lunar Series I in the chart section.
Subsequent is the price comparison: Buy Lunar Series I gold coin.
Images for Lunar Series I
Courtesy of APMEX.com
Gold price Chart - Lunar Series I
Chose the desired time period:
All product ratings for Lunar Series I
Unfortunately there are no reviews for this product yet.
Submit first rating now
Other products of manufacturer Perth Mint
Advertisement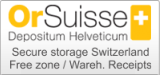 Price comparison
Gold coins (14)
Gold bars (11)
Silver coins (10)
Silver bars (6)
Platinum coins (2)
Platinum bars (6)
Palladium bars (3)
Advertisement