Rand

Gold Coins for Sale
Product
Dealer
Price

*

Your current choice is not offered by any vendor at present.
Legend: Over the counter Yes/No Reviews
Dealer prices updated: 08/08/2022 - 4:40am Uhr, Shipping prices updated: 07/08/2022 - 8:00am
* The indicated prices are inclusive of any applicable VAT plus the separately stated shipping costs.
** The indicated purchase prices are less any applicable shipping costs.
The Rand is the currency of the Common Monetary Area between South Africa, Lesotho, and Swaziland. Namibia withdrew from the Common Monetary Area, but still uses the Rand today. They were first struck in 1961 in denominations of ½, 1, 2½, 5, 10, 20, and 50c. In 1965 the 2c coins relapsed the 2½c coins, and in 1973 the ½c was last reproduced for circulation. In 1989 the R2 was introduced and followed by the R5 in 1994. In 2002 the 1 and 2c coins were discontinued. 2004 saw the new R5 with security features to prevent counterfeiting with a bi-metal composition and serrated grooves around the rim and micro-lettering.
Technical Data About 2014 Rand Coins:

Mint: South African Mint Denomination: 10c, 20c, 50c, R1, R2, and R5 Precious Metal: Copper-plated steal, bronze-plated steal, nickel-plated copper, and a bi-Metallic brass center in a copper-nickel ring Weight: 2g, 3.5g, 5g, 4g, 5.5g, 9g Diameter: 16mm, 19mm, 22mm, 20mm, 23mm, 26mm Thickness: 1.6mm, 1.8mm, 2mm, 1.7mm, 1.7mm, 2.8mmEdge: Reeded, R1 is segmented reeding, R2 intermittent reeding, and the R5 has a security rim with the lettering: SARB R5 around the entire coin.

Front Motif: 10c and 20c National coat of arms. The 50c has the lettering: Aforika Borwa ALS South Africa with the national coat of arms. R1 has the national coat of arms, and the lettering: Suid-Afrika ALS Afrika Borwa. R2 has the national coat of arms with the lettering: iNingizimu Afrika uMzantsi Afrika. R5 has the national coat of arms with the lettering: Afurika Tshipembe (Venda) - 2014 - iSewula Afrika.

Reverse Motif: 10c rand: Arum Lily at left and the value at right. 20c rand: Royal protea flower and value. 50c rand: A bird of paradise flower with the value. The R1 has the value, the lettering: SOLI DEO GLORIA LL, and a springbok. R2 has the greater kudu, and the value of the coin. R5 has a Wildebeest, the value, and a ring of lines that say SARB in microtext along the right and left sides.
You can see the historical prices for the Rand in the chart section.
Subsequent is the price comparison: Buy Rand gold coin.
Gold price Chart - Rand
Chose the desired time period:
All product ratings for Rand
Unfortunately there are no reviews for this product yet.
Submit first rating now
Other products of manufacturer South African Mint
Advertisement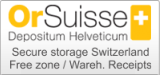 Price comparison
Gold coins (15)
Gold bars (11)
Silver coins (8)
Silver bars (6)
Platinum bars (6)
Palladium bars (3)
Advertisement