Buy Palladium bar
Courtesy of APMEX.com
The high demand of Palladium Bars

Why collect or invest in Palladium Bullion Bars? Well actually we all have our reasons, but here are a few that come to mind. Palladium Bars are a good financial and economic investment, with unique and distinctive memorabilia of the past minted on some of the bars, so it also is good for you history buffs.

History:

Palladium metal took some time to be discovered, due to it having its history sealed with its equivalent metal platinum. Furthermore palladium is one of the six members of the platinum metal groups, also known as the Nobel metals. Keeping this all in mind palladium was not divided from platinum for several years, in fact the two metals shared the early history together until Palladium was discovered in 1751. 

Palladium was first used and worked with by the South American Indians way before the 15th century. Throughout the 15th and 16th century, the news finally extended to Europe about this new found white metal. In 1804 they were separated, by a British chemist William Hyde Wollaston. However, approximately two centuries had gone by before palladium's impact became acknowledged, and the struggle against global pollution should be indebted to this unique and rare white metal.

After Succeeding the precision of his technique to acquire pure samples of platinum in 1801, William Hyde Wollaston went on to separate palladium from platinum two years later by dissolving native platinum in aqua regia (a mixture of hydrochloric and nitric acid). He named it after Pallas, the ancient Greek goddess of wisdom, courage, inspiration, civilization, law and justice, strategic war, mathematics, strength, strategy, the arts, crafts, and skill in ancient Greek religion and mythology. Minerva is the Roman goddess identified with Athena.

Wollaston tried to keep this new found white metal under wraps and a secret. In his attempt to do so, he only offered a few samples of the metal to his peers and a few others secretively sales.

Some of his peers were skeptical and suspicious, about this new found metal's source, questioning if it was actually just another blend of platinum. Even though he kept it sealed tight since 1803, with his peers becoming skeptical, it required him to announce details of his findings in 1805.The usage of palladium actually took off in the 1970s when demand for this extraordinary and remarkable white metal was needed for the automobile industry.

Palladium was used in the Spanish colonies, in 1967, Tonga, the island nation circulated and distributed Palladium bars. Many countries have supplied palladium bars ever since, and it has enhanced into a very popular white metal.  Russia distributes over half of the world's Palladium supply, at some points of interest of our past Russian has withheld palladium from the world's market for their own political and economic gain, resulting in very large and very fast fluctuations of palladium prices.

Palladium bullion bars are somewhat limited, but there are still various elegantly and magnificent examples of this type of valuable investment metal offered across the nations, and even some private minting companies, such as Johnson Matthey.

Research of Palladium in Australia:

A couple of scientific researchers at Australia's Murdoch University have established a new method to recover precious metals quicker and more efficiently, at a lower cost. The two professors said their microfluidics approach could renovate the refining technology for platinum group metals, which are Iridium, Osmium, Palladium, Platinum, Rhodium, and Ruthenium as well as rare earth elements.

Palladium is a soft white metal that resembles platinum. It is the least dense and has the lowest melting point of the platinum group metals. It is soft and ductile when annealed and greatly increases its strength and hardness when it is cold-worked.
Palladium dissolves slowly in concentrated nitric acid, in hot, concentrated sulfuric acid, and, when finely divided, in hydrochloric acid.

Dr. Chun-Yang Yin and Dr. Aleksander Nikoloski shown their theory in an experiment extracting platinum and palladium from a leach solution. This new technique makes processing faster and also reduces the plant space needed to carry it out thereby lowering production costs.

Dr. Chun-Yang Yin and Dr. Aleksander Nikoloski said the increasing cost of metals such as platinum and palladium made recovery cost-effectively and naturally vital. 

Palladium Uses:

Palladium does not react with oxygen at normal temperatures, therefore does not tarnish in air. Palladium heated to 800 °C will produce a layer of palladium oxide (PDO). It tarnishes lightly in a moist atmosphere containing sulfur. Palladium primarily exists in the 0, +2, and +4 oxidation states; the +4 oxidation state is comparatively rare. With Palladium not tarnishing easily it reveals a bright shiny white finish that preserves its shine just as other metals do, such as Gold, Platinum, and Silver.

Palladium is used for many things such as, Autocatalysts, Electronics, Dentistry, Jewelry, Chemical, Fuel Cells, Coinage, Oil Refining, Polyester, Photography, Water Treatment, Hydrogen Purification, and Medicine. Palladium is a very demanding and useful metal.

When Investing in Palladium Bars:

Palladium Bullion Bars are a great way for investors to add to their collection. When buying and selling any precious metal in the market it is wise to have the knowledge of the metals under your belt, as you should only pay at the market spot price. The highest refined purity Palladium Bullion Bars are refined by Johnson Matthey from the ore mined Stillwater Mining Company.

There are many Palladium Bullion Bars out there today such as, Credit Suisse Palladium Bars, PAMP Suisse Palladium Bars, and Johnson Matthey Palladium Bars.

Credit Suisse Palladium Bars:

Credit Suisse was established in 1856 by Swiss elected official and capitalist, Alfred
Escher, and all the way through history, the company has been acknowledged as a solid, highly respected establishment.

The Credit Suisse palladium bar, is produced by the massive asset of Credit Suisse. On the Reverse side the minted, engraving clarifies the size and purity of the palladium bars, and the serial number. Also on the Obverse side has the Credit Suisse logo.

PAMP Suisse Palladium Bars:

They are privately minted, in Switzerland and well known as Produits Artistiques Metaux Precieux, displaying the iconic appearance of Lady Fortuna. Palladium Bars are
.999 pure Palladium and there weight ranges from 1 ounce up to 10 ounces. On the reverse side of the Palladium Bar has the PAMP Suisse logo, the weight, and serial number, and on the Obverse side has Fortuna a Roman goddess.

About Fortuna:

In early Roman days, Fortuna was thought of as a goddess of wealth and blessings, and is understood that it could be beneficial and corrupt. She also was recognized for
impartiality and blind judgment, the goddess is regularly pictured on PAMP Suisse Palladium Bars and holds a cornucopia, the emblem of wealth and fortune.

Baird & Company Palladium Bars:

Baird and Company was established in 1967, working with all types of metals, making bullion coins and bullion bars. By 1979 Baird began a refining operation and started creating and manufacturing Palladium Bars, and began to grow very rapidly.

This quality of manufacturing led to Baird being recognized as a member of the London Bullion Market Association in 2000. Baird continues and thrives in being a professional on the manufacturing and exchange of Palladium Bars.

Johnson Matthey Lewis & Clark Palladium Bars:

In the recent years, Johnson Matthey Lewis & Clark, have provided an increase to the replenishment and investment demand for Palladium. Obtaining a significant role on the precious metals market, Palladium provides you with the opportunity to take advantage of the increasing importance of Palladium in the precious metals market and to expand your asset collection at the same time. All Palladium Bars are created with .9995 fine purity.

APMEX Palladium Bullion Bar:

Argor Heraeus has made this attractive Palladium Bullion Bar to enhance anyone's portfolio, and exclusively for APMEX. It features a beautiful ballerina on the Obverse side and APMEX one ounce Palladium .9995 Fine and a pointe shoe with a ribbon binding.

How Palladium Bullion Bars are made:

Minted Palladium Bullion Bars – you start out by rolling out the cast bar to get the
appropriate thickness. Once you have the proper thickness the minted Palladium Bars are then generally created and cut from the cast bar. They use die to create blanks that have a thorough dimension of weight. Then, all the surfaces must be smoothed out evenly, and finally the marking of its weight, serial number and who manufactured it is stamped on the bar using a minted press.

Casting or Poured Palladium Bullion Bars – are created and formed by pouring liquefied valuable metal directly into molds. The markings, of the serial number, weight, and company that manufactured it, are then usually stamped on the bar by using a hammer or a press.

Tips for Purchasing Palladium Bars:

When profiting from palladium, the best dependable and consistent technique in obtaining the least possible price per troy-ounce of metal is to buy palladium bullion bars. Furthermore when purchasing palladium bars, it is essential to be confident and at ease with your familiarity of this metal, which will impact you getting a respectable and realistic price. It's best to purchase from a well-established Palladium Bar dealer. Well-known refiners will also trademark or stamp their palladium bars to endorse and guarantee the heaviness and pureness of the investment.

All genuine dealers always take on the accountability for a face to face delivery of your investment. This will prevent others from copying the genuine assessment papers, and keeping and maintaining false palladium out of the investment pool. Like gold and silver, palladium bullion bars are believed to be a solid asset, in fact many financial advisors support a weight of 9.5% for your asset portfolio.

Obtaining precious metals such as palladium bars can help strengthen and alleviate one's wealth and assets. As with all valuable metals, palladium is protected against market uncertainties. Palladium bullion bars are available and easy to obtain, also to deal in and supply, and are traded worldwide.

Palladium bullion bars are recognized because they have little disbursements over their value. In addition to the inconsistency amongst the buying and selling price is insignificant because Palladium bullion bars easy to trade.

How to properly store your Palladium investment:

Properly storing your Palladium Bar collection will keep them in excellent condition for generation to come. You must acquire the right tools and supplies to store your palladium bars to protect them from damage, and loss of value. Follow these guidelines and you will be on the right track to storing your palladium bars properly and preserving them for future generations.

It's best to keep your Palladium bars in a safe deposit box at the bank. But if you must remove your palladium bars, it would be beneficial to put them into a container with a soft cloth around them, to protect from getting damaged.

The best way to handle your Palladium Bars:

Always when showing your Palladium Bars to a customer hold it over a soft area or cloth, just in case one of you may drop it, causing it to lose its value. Also be sure both of your hands are clean, nowadays you could use hand sanitizer. Hand sanitizers take the oils out of your skin and cleans your hands at the same time. Since the oils on our skin is what causes damage to metals this is a great way to be sure your customer's hands are clean as well as yours. But be very sure you only use
the unscented sanitizer, since the scented kinds might leave behind other traces of perfume chemicals that could get on the Palladium Bars.

Palladium Bullion Bars are made of a refined and elegant metal, with some history minted on a few of the Palladium Bars. They are a profitable investment that can give you financial gain and wealth. Always keep in mind though that the profits can always go up or down, but with all the need that Palladium can give this world it will be in demand for a long time. Which will keep Palladium Bars moving through the market place with economic advantage, so add Palladium to your investments.
Advertisement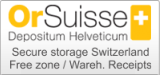 Price comparison
Gold coins (15)
Gold bars (11)
Silver coins (13)
Silver bars (6)
VAT free Silver (2)
Platinum coins (3)
Platinum bars (2)
Palladium coins (1)
Palladium bars (2)
Advertisement