1 ounce

Buy Palladium bar

Legend: Over the counter Yes/No Reviews

Dealer prices updated: 26/05/2022 - 6:30pm Uhr, Shipping prices updated: 25/05/2022 - 8:00am

* The indicated prices are inclusive of any applicable VAT plus the separately stated shipping costs.
** The indicated purchase prices are less any applicable shipping costs.

1 ounce Palladium Bar:

Palladium was not discovered until the 19th century. It was named after an asteroid called Pallas that had been named after Pallas-Athena, a Greek goddess. Although it is in the same group of metals as platinum, palladium has a lower melting point and is the least dense of all such metals. Ore deposits of this metal are extremely rare, but a few have been found in the United States, Canada, South Africa and Russia. It has many industrial uses in various fields. Palladium is used in manufacturing catalytic converters, various electronic components, dentistry, medicine, groundwater treatment, and jewellery making. Because it has so many practical applications, and because it is such a rare metal, palladium is highly sought after by both collectors and investors.

Palladium bullion bars are valuable to investors and collectors for the same reasons people like to invest in other metals. They retain their value well, and they can often be sold later at high profits if the investor decides to sell them. They come in a variety of sizes, but each 1 ounce palladium bar will weigh that much regardless of the dimensions the mint chooses for pressing. Various refineries also choose to use different markings and sizes when these bars are minted, so they often have decorative elements on them. The design imprints will often be related to the logo of the refinery or the country of origin. Regardless of the mint, each bar bears an inscription that indicates the weight, the fineness of the palladium, and the name or logo of the mint where the bar was produced.
Palladium price Chart - Palladium bar 1 ounce
Chose the desired time period:
All product ratings for 1 ounce
Unfortunately there are no reviews for this product yet.
Submit first rating now
Advertisement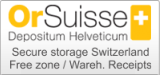 Price comparison
Gold coins (14)
Gold bars (11)
Silver coins (10)
Silver bars (6)
Platinum coins (2)
Platinum bars (6)
Palladium bars (3)
Advertisement