Buy Palladium coins
Courtesy of APMEX.com
The Uniqueness of Palladium Coins
There are more than a few reason why people collect Palladium coins. One reason is
because many people like history, with all coins telling their own distinctive and unique story. Which can indeed help us all to recognize and understand the past better. While others may just want to collect Palladium coins with the expectations and hopes that the value will go up over time.
History:
Palladium coins are a form of currency made out of the rare white transition metal called palladium, and is internationally recognized as a form of currency.
Palladium has a history that is sealed with that of platinum, and is also associated as a member of the platinum metal groups, also known as the Nobel metals. "Native platinum" refers to the natively occurring platinum which is not actually pure platinum at all, but rather a natively alloyed mix of platinum group metals including
palladium. Palladium was not separated from platinum for quite some time, then after the discovery of native platinum, within our early history it was a shared metal.
The South American Indians approximately 1,000 years ago worked with Palladium. During
the 15th and 16th century, the news ultimately reached Europe about this new found white metal.
After developing the exact precision and excellence of his technique, to obtain pure samples of platinum in 1801. William platinum in aqua regia, then he detected another
white metal within platinum, called palladium. Palladium was discovered and revealed
by the British chemist William Hyde Wollaston in 1804. It took approximately two centuries for palladium's significance to be recognized, and the fight against worldwide pollution owes a lot to this exceptional and unique metal.
In an effort to keep his techniques a top-secret, Wollaston offered samples of palladium for sale secretly and anonymously, but his peers were suspicious and skeptical about the new metal's provenance. Furthermore they were suspecting that it was an alloy of platinum metal. This forced him to publish details of his findings in
1805.
Sierra Leone put into circulation of the first palladium coins in 1966.Tonga began issuing palladium coins a year later in 1967, which included the Tonga Palladium Hau. Since then a number of countries have issued palladium coins, including Canada, the Soviet Union, France, Palau, Portugal, Russia, China, Australia and Slovakia. Most of these have been special commemorative coins.
The use of palladium really took off in the 1970's, with palladium being a valuable and precious metal that has good appearances for currency, but its use in general
circulation of palladium coins was very limited.
In 1967, the South Pacific island nation of Tonga issued some palladium coins within the general circulation, in honor and remembrance of the coronation of King Taufa Ahau
Tupou IV, possibly the first issue using palladium. From 1987 to 1990, Portugal began distributing and dispensing palladium proof coins as part of a series with other metals.
Also in 1987, France issued a 100 Franc palladium bullion proof coin featuring the bust of Lafayette. In 1987, palladium bullion was very popular year after year for
the Isle of Man, which is located on an island kingdom in the Irish Sea, between the islands of Great Britain and Ireland. They also circulated and issued a palladium coin in commemoration of the bicentennial of the United States Constitution, with featuring Queen Elizabeth II on the obverse and on the reverse are 11 United States presidents encircling the Statue of Liberty.
Between 1989 and 1995, Russia made several but yet a limited amount of exceptional and distinctive palladium bullion coins, known as the ballerina series. The palladium ballerina series has a ballerina striking a pose on the obverse side and the Soviet Union symbol on the reverse side. Ballet has a cultural magnitude in Russia, drawing
from the inspiration and specialist of Russian ballet choreographers, dancers, and composers. The ballerina series bears a different image of ballerinas on each mintage year.
The Russian Palladium 25 rouble was fashioned out of pure palladium, and weighs approximately one troy ounce. The coin is strikingly white and is created with an excellent shape, using careful attention to detail with unchallengeable precision and accuracy.
In 1989, China struck its first Palladium Pandas coin, then stopped producing them till 2004 when they minted 8,000 100 Yuan palladium coins featuring the lovely and
adorable kissing pandas.
Australia produced several palladium bullion coins in an "Emu" series from 1995 to 1997. There were four different minting's that were done with variations on the Emu, a
flightless bird, for each. These coins were both full proof and bullion, and are one troy ounce of 99.95% pure palladium.  The Perth Mint had suspended the Emu series when the price of palladium doubled in 1998. They were only minted between the years of 1995 and 1998, the stunning Australian Palladium Emu is quite rare and one of the most coveted bullion coins in the world. The obverse side of the coins shows Queen Elisabeth II, and the reverses are as follows, 1995 Proof Emu with eggs,  1996 Bu Emu with eggs, 1996 Proof Emu with two chicks, 1997 Bu Emu with two chicks, 1997 Proof Emu with pup, and  1998 Bu Emu with pup.
There were four different palladium coins imprinted, and was done with variations on the Emu, a flightless bird, for each. The coins, both proof and bullion, are one troy
ounce of 99.95% pure palladium with a face value.
In 1998, the Russian's resources of palladium all but dried up leading to a global shortage of the white metal, with South Africa remaining as the only major supplier. When the prices doubled, leaving the Perth Mint with little option, they were forced
to suspend the Australian Palladium Emu series.
Australian Palladium Emu Coins are magnificent and exquisite collectibles in precious palladium metal for any coin collector. The unique Australian Palladium Emu bullion coins arrange for investors to have a convenient and cost effective way to add palladium to their investment portfolio.
The obverse was designed by Raphael Maklouf. The reverse was designed by Louise Pinder for the years of 1995 and 1996 with palladium proof as well the 1996 and 1997 Brilliant Uncirculated. Milena Milan was responsible for 1997with palladium proof and
1998 Brilliant Uncirculated.
Palladium Coins in the Present:
Palladium coins are known today to be meant to celebrate and honor people, places, events, and institutions. All the coins are produced by the United States Mint and are made with a restricted supply amount that are available to the public.
The Royal Canadian Mint also minted palladium maple leafs from 2005 to 2007, as well as in 2009.These coins were made of pure palladium, each one containing one troy ounce of pure palladium. This was a legal currency in Canada in the early 2000's. One of the sides bears a single maple leaf, which is one of the national symbols of Canada, with Queen Elizabeth 2nd on the other side.
The Russian Federation had minted the highest amount of the palladium coins in the world. There are many other popular palladium coins minted by other countries. In December 2010, a bill was passed authorizing the United States Mint to generate and produce a 1 troy ounce palladium coin for circulation.
The United States Mint creates and produces proof versions of American Eagle Palladium Bullion coins for collectors. American Eagle Proof Palladium Coins sustain a particular minting process, which begins by manually hand feeding burnished coin blanks into presses fitted with special dies. Then the coin is hit upon numerous times so it becomes softly frosted.
For the purposes of the new palladium coin, the legislation requires that the obverse side of the coin be used for Weinman's "Winged Liberty" the same design that appeared on the "Mercury Dime" that was produced between 1916 and 1945. Contrary to the nickname it was given, the roman god Mercury is not shown on the design, but instead is actually the mythical figure of Liberty wearing a Phrygian cap to symbolize liberty and freedom. The reverse of the palladium Eagle would showcase a high relief version of Weinman's 1907 American Institute of Architects medal.
Palladium Maple Leaf
A traditional way of investing in palladium is buying bullion coins, such as the Canadian Maple Leaf and the Chinese Panda.
Maple Leaf Palladium 1 Ounce Coins became available for the first time in the year of 2007. The Palladium Maple Leaf is coming back to the bullion market to meet exceptional and extraordinary high investors, which are in high demand. Each coin contains pure palladium and will come to the factory fresh from the Royal Canadian Mint. These unique and extraordinary bullion coins are widely recognized and acknowledged as well as wanted by a series of investors around the world.
Palladium Bullion
Bullion is the form of palladium trade for investment purposes only, and Canada being the only one now a days that make palladium bullion coins, and only a few commemorative palladium coins issued.
There were several Australian palladium coins that were made in the late 1900's, a few of them are, 1989 Hutt River Province, 1987 Sailing Ship "Sea Venture", and The Stillwater.
The Principality of Hutt River, previously known as the Hutt River Province, is the oldest micronation in Australia. The 1989 Hutt River Province Palladium Coin was created to recognize the independent sovereign state. In1987, this beautiful Proof Palladium coin shows "Sea Venture", a famous old sailing ship.
The Stillwater Palladium coin was designed with Corps of Discovery adorns on the obverse side of the coin, and a single buffalo on the reverse side.
Caring for your Coins:
To retain and hold the value of your palladium coins and the look of your coin collection, you must properly care for them. Your palladium coin collection will also need to be securely stored properly, and is very essential to do so.
You must be cautions in cleaning your coins even though it may be tempting to do so. I know all you collectors would like your coins to look shiny and new, but most of the
time cleaning can cause reduction in the value of your coin. But if really feel you must get some dirt off your palladium coin use mild soap and water, then pat it dry with a soft and gently towel.
Handling Your Collection:
To uphold and preserve the profit value and natural physical condition of your palladium coins, it is of significant importance that you handle them sensibly and carefully.
Hold a coin by its edges, between the thumb and forefinger. This will protect and keep the coin's surface from the natural oils that are on your skin, those oils can cause your coin to become eroding and scarring.
Some knowledgeable and experienced coin collectors wear soft cotton gloves when handling their uncirculated or resilient coins. It is your choice to wear gloves or not but If you don't, make sure your hands are clean before handling your coins.
Be sure to hold your coins over a soft towel or other soft surface in case you drop them.
Don't talk directly over your coins because tiny, almost invisible droplets of saliva can drop onto the coin and show up later as spots. Just like fingerprints, those marks are difficult, if not impossible, to remove.
Collectors should beware and know that bullion palladium coins come in different weights. They are typically multiples or fractions of 1 troy ounce, but roughly bullion coins are created in very reduced quantities in kilograms and ounces, but
several bullion coins are created and generated in a very limited quantity in kilograms and even heavier.
How to Buy Palladium Bullion Coins:
Like other metals palladium bullion is believed to be a very hard asset to obtain.
Acquiring valuable and exquisite metals such as palladium coins can increase and strengthen one's wealth and assets. Palladium bullion coins offer the same .9995 palladium metal that is found in ingots, but in a smaller size.
As with all prominent metals, palladium is a time tested hedge against market uncertainty, currency depreciation, and rise in inflation.  Palladium bullion coins are simple to buy, sell and store, and are negotiated and exchanged worldwide, making them a resource that isn't restricted on one government or country.
Palladium coins are a great source of history, if you are fortunate enough to acquire
any, be sure to care for them properly to keep their value.
Advertisement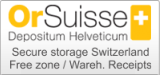 Price comparison
Gold coins (15)
Gold bars (11)
Silver coins (13)
Silver bars (6)
VAT free Silver (2)
Platinum coins (3)
Platinum bars (2)
Palladium coins (1)
Palladium bars (2)
Advertisement