10 grams

Buy Silver bars
Product
Dealer
Price

*

Your current choice is not offered by any vendor at present.
Legend: Over the counter Yes/No Reviews
Dealer prices updated: 26/05/2022 - 7:10pm Uhr, Shipping prices updated: 25/05/2022 - 8:00am
* The indicated prices are inclusive of any applicable VAT plus the separately stated shipping costs.
** The indicated purchase prices are less any applicable shipping costs.
10 gram silver bar

Silver's origins are not on the earth, but in stars called supernovas. When these supernovas explode, nuclear fusion produces elements heavier than iron. Silver is one of these elements; gold is another. Silver is slightly harder than gold, and is found in greater quantities. The standardised way to measure these types of metals is using troy ounces, which is not exactly the same as a normal ounce. One troy ounce equals 31.103 grams, so those looking to purchase silver or gold bars should be aware of this difference in units of measure. The troy ounce is identical with an apothecary ounce, and the terms are often used interchangeably.

The ten gram silver bar, like the five gram bar, is often ordered in large quantities because it is the second smallest size available for silver bullion bars. When ordered in quantities, these bars will often come in wooden boxes or in plastic sheets for protection. There are lots of variations in sizes of silver bars, but each one listed as 10 grams will weigh exactly that. Although larger sizes often come with assayers verifying authenticity, bars of such a small size often do not come with this certificate. Typically machine pressed, the weights of these bars are always accurate.
Silver price Chart - Silver bar
Chose the desired time period:
All product ratings for 10 grams
Unfortunately there are no reviews for this product yet.
Submit first rating now
Advertisement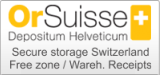 Price comparison
Gold coins (14)
Gold bars (11)
Silver coins (10)
Silver bars (6)
Platinum coins (2)
Platinum bars (6)
Palladium bars (3)
Advertisement