Silver Coins for Sale
Courtesy of APMEX.com
Silver Coins for Sale in the UK
Silver Coins
Investing in silver coins can be a very profitable investment. If you are investing in stocks or bonds you can use silver coins to hedge your portfolio. Silver coins are also a hedge against inflation. Here are some other reasons to choose silver coins:

First, silver is mined in some of the most politically unstable countries in the world. Here is list of the top ten world silver producers:
1.Mexico- Produces 128.6 million ounces.
2.Peru- Produces 116.1 million ounces.
3.China- Produces 99.2 million ounces
4.Australia-Produces 59.9 million ounces
5.Chile-Produces 41.0 million ounces
6.Bolivia-Produces 41.0 million ounces
7.United States-Produces 38.6 million ounces
8.Poland-Produces 37.7 million ounces
9.Russia-Produces 36.8 million ounces
10.Argentina-Produces 20.6 million ounces

As you can see many of these countries have fragile political systems, especially South American countries. They have outdated infrastructures that make it difficult to mine the ore. They are subject to labor strikes. Flooding is a major hazard as it, too, disrupts production. Then you have fires and engineering problems that occur from using primitive equipment. These problems create a lack of consistency of supply.

Silver is Undervalued

Silver is undervalued when compared to gold. The historic ratio has been 15 to 1. Fifteen ounces of silver equals one ounce of gold. Currently the ratio is 43 to 1. If the normal ratio is used the price should be $120 per ounce.
Silver has a greater percentage increase than gold. If gold doubles, silver will usually triple.

Industrial Uses for Silver

Most of the silver is used commercially. A study in 2010 found that 487.4 million ounces was for industrial use. 167 million ounces was used for jewelry. India buys most of its silver for jewelry. 101.3 million ounces was used for investments.
The industrial uses for silver are growing by leaps and bounds. It is important to note that after silver used it is destroyed, thus supply is always diminishing. These are some items where silver is used:
Computers, cameras, electronics, jewelry, sanitation, electrical appliances, refrigerators, compliant solder, clothing, medical, water purification, food hygiene, washing machines, vacuum cleaners, keyboards, counter tops, furniture handles, mobile phones, nano silver to deliver silver ions, kitchen utensils, electrical conductors, and coinage
A recent study conducted in Israel found that silver infused paper could prevent meat packaging.
Silver has anti-bacterial qualities. Its use in medical technology is growing substantially. Silver is also an excellent reflector of light.

Silver is In Short Supply

Silver is in short supply. A study by CPM Group, a New York Consultancy Firm found that new production plus secondary recovery fell by 1,897.9 million ounces short of meeting industrial demand. Add to that silver coinage and the overall deficit is 2,214 million ounces. Silver supply has failed to meet demand for the past 15 years. The above ground supplies are especially in short supply. The analysts are predicting that supply will fall short of demand for the next decade.

Silver Used as Money

People use silver more than gold for money. The state of Utah accepts silver as legal tender. We will examine other countries where silver is legal tender.

The Emerging Markets, especially China and India are rapidly becoming industrial giants. In a two year period China imported 3,000 tons of silver.

When you translate the growing demand for silver into silver coins you find that the value of coins will increase more rapidly. You have most of the commercial silver destroyed after use. You then have a limited number of coins minted, some of them lost or discarded, leaving the supply of remaining coins gaining value.

How Silver Coins are Minted

The process of minting silver coins involves several steps. First the silver is melted. The temperature must be exact, not too hot or too cool. Then it is poured into rolls. These rolls are then extruded into slabs and cut a certain length. Then the slabs are fed through a machine that stamps out blanks. These blanks will be used to make the final coin. Artists and designers begin with drawings and from them create a die that will be used to make the actual coin. They then burnish the die to create a shinny surface. Finally, the coin is struck using the die.

What You Need to Know About Investing in Silver
.
The first thing your must learn is how silver is priced. In counties using the
English system, silver is priced in dollars per ounce. In countries using the metric
system, silver would be priced in grams. The major trading exchanges in New
York and London price silver in dollars per ounce. Other countries will use their
local currency such as English Pounds, German Marks or Euros.

How to Find a Reputable Broker Dealer

The best way to find a reputable dealer is to first go the US Mint website at www.usmint.gov. Here you will find a list of dealers authorized by the Mint to resell coins. The dealers listed here are screened by the Mint and must present evidence of ethical past practice. These dealers are authorized to buy in bulk from the Mint. The Mint charges them a fee above the spot price for silver. Dealers must then pay for shipping to their shops. Dealers will then add another markup in the price for retail customers. The retail customer must also pay for shipping and insurance. Then the customer must have a safe place to store the silver, usually in a safe or safety deposit box.

Ways to Begin Your Search for Silver Coins

-You can search by country. Here you might want to focus on just one country and follow the coinage through the years. Or you could choose a group of your favorite countries and follow them.
-You can search by year. You can narrow your search and focus on just the year. Some coins are heavily minted in some years, while in other years fewer coins are minted..
-You can search by condition. Coins are graded by their condition. You can find the grading system online or in several coin publications.
-You can search by price. You may want to stay in a certain price range depending on how much you are willing to invest.
-You can search by weight. You may want to stay with a particular weight such as one- ounce coins.
-You can search by the Mint. Countries often have many different mints. They do not all mint the same number of coins. This is one of the factors that determines the price.
-You can search by purity. Many persons prefer to stay with coins that are 99.9% pure. Some countries offer several different coins with different levels of purity.
-You can search by denomination. You may want to stay with only $1.00 coins or you can choose from various denominations.

Coins to Choose From

-United States. The United States offers the Silver Eagle. It is a $1.00 bullion coin minted throughout the year. The Morgan Dollar was minted from 1878-1904 and 1921.The Peace Dollar was minted after WW1 from 1921-1935.The Eisenhower Dollar was minted from 1971-1978. For collectors, a Half Dollar was minted in 1794.

-Canada. Canada offers a wide variety of coins. The most popular is the Silver Maple Leaf. It is minted in $1.00, $2.00, $3.00, $4.00 and $5.00 denominations and can be purchased single or in sets. Its purity is 99.9%. The Silver and Gold Kilo Maple Leaf is $250 coin .9999 fine. The Canada $20 Silver Wolverine features a weasel on a snow mound. It offers the 20 Dollar Baby Animal Series. The most popular is the Beaver, minted 1975-2014. The Silver Dinosaur Xenocerztops is a $1.00 coin featuring the prehistoric animal of Canada. The $20.00 Dollar Silver Wolf features a howling wolf, the top Canadian predator. They offer the $20.00 Dollar Silver Cougar showing the cougar ready to pounce on its prey. They also have a 1 ounce Silver Cougar coin showing the cougar navigating a rocky terrain. The Animal series offers a $20.00 Puffin. It lays only one egg and is fed by both parents. There is the $50.00 Silver Snow Owl. The wings are shaded to indicate a female.

-Britain. The Britannia Coin has a history dating back to 1672. It is offered as a $10.00 coin with Britannia seated holding her trident with the owl of wisdom perched on her knee. In 2014 it minted the $2.00 Silver Britannia Mule. In 2015 it will be Miss Liberty.

-Israel. Israel coins featuring biblical events. The Jordan River is a $2.00 coin showing the River flowing through rushes. They offer the Israel Silver Ancient Mosaics Set featuring a fish, lion and tree of life. They also offer a 4 piece Israel Silver Ancient Mosaic Set. Featuring David and Harp, Menorah, Pomegranates and Allegorical Figure of Autumn. They minted a $2.00 Silver Eliat Coral Reef. The Eliat Coral Reef is located in the Red Sea.

-Europe. Europe now has 18 countries that formed the European Union in 1999. You will find an absence of individual country coins after the start of the Euro. Most coins predate 1999.

-Germany. In 1990, Germany offered a $10.00 silver coin-20 Years of German Unity. It features the Brandenburg Gate. In 1994, they minted a 10 Mark coin-Hitler Assassination Operation Valkyrie containing 62.5% silver. They minted the Twilight of Empires from 1867-1919 in a 3 piece set. The empires were the Hohenzollerms of Germany, Hapsburgs of Austria and the Romanovs of Russia. Coinage during the Nazi era was confiscated and destroyed.

-Australia. Australia features the popular Kangaroo Coins They are a $1.00 silver coin, 99.9% pure. They have been struck so deep that the kangaroo and the portrait of Queen Elizabeth 11 stand above the surface.

-The other featured coin is the Koala Coin. It too is a $1.00 coin, 99.9% pure. It shows the Koala sitting in a tree with bush in the background.

-China. China offers a 2- ounce series of Lunar Coins. They are noted for their quality and artistry. They feature different coins for each Lunar Year. The Chinese Panda coin features a forest with pandas at play. It is .999 pure.

-Russia. Russia has a new 2014 offering. It is the Silver Three Roubles Rev. Sergius Radonezhsky. It honors the 700th Anniversary of the birth of Sergius Radonezhsky. It is .925 pure. Only 7,500 were minted.

-New Zealand. New Zealand has an extinct animal series. The 2015 coin is the New Zealand Huia. It is 1-ounce coin, .999 pure. It features a female huia sitting on a branch. The huia is a mythical bird that is the messenger between earth and the spirit world.

2015 World Coins

-Canada. Silver $1.00 50th Anniversary of the Canadian Flag It features a red flag, a white center bearing the Maple Leaf. .9999 fine.

-New Zealand. New Zealand ICC Cricket World Cup. It is gold gilded 1 ounce silver bearing the ICC.logo.

-Equatorial Guinea Butterflies in 3D. Graphium Policenes. The animal is found in the forest region of Sahara Africa. It is .925 fine and weigh 25 grams. The uniqueness of the coin is that it is presented in 3D.

-Cook Islands. Cook Island Imperial Cloisonne. $5.00 20 grams. This is an egg shaped coin.

-Palau. Palau Ounce of Duck. It is a $5.00 1 Troy ounce .925 fine. The clover featured belongs to family of legumes,

-Ghana. Ghana Lunar Skulls Year of the Goat. -1 Troy ounce .9999 fine. It features a goad skull.

-Tokelau. Tolelau Messages of Love Coffee. It is a $5.00 coin and features a cup of coffee. Coffee is consumed in many countries and noted for it aroma and rich flavor.

-Tokelau. Tokelau 1 Ounce Silver Filigree Snokflakes Bear (Series). It is a 1 ounce coin, .9999 fine. It features a polar bear with an iceberg.

-Tokelau. Tokelau Creatures of Myth and Legend. Capricornus. It is a 1 ounce $5.00 coin. It features Capricornus the Goat Fish.

-Niue. Niue Feng Shui Elephants. It is a 1 ounce coin .999 fine. It symbolizes protection, wisdom, strength and good fortune.
Advertisement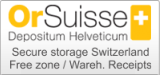 Price comparison
Gold coins (15)
Gold bars (11)
Silver coins (13)
Silver bars (6)
VAT free Silver (2)
Platinum coins (3)
Platinum bars (2)
Palladium coins (1)
Palladium bars (2)
Advertisement