Britannia

Silver Coins for Sale

Legend: Over the counter Yes/No Reviews

Dealer prices updated: 09/12/2023 - 3:20pm Uhr, Shipping prices updated: 08/12/2023 - 8:00am

* The indicated prices are inclusive of any applicable VAT plus the separately stated shipping costs.
** The indicated purchase prices are less any applicable shipping costs.

From the British Royal Mint, one of the oldest refineries in the world, the Britannia is a silver bullion coin that has been in production since 1997. These coins are traded globally. During odd years, alternate designs are minted. The 2015 coin was inspired by the defeat of Napoleon and celebrates that victory. Beginning in 2013, the British Royal Mint began enhancing the purity of these coins, so all Britannia coins produced before that year have a slightly lower silver content. These are legal tender in the UK and are backed by the British Royal Mint. However, as with many other collectible coins, the face value is not always equal to the value of the silver content. The Britannia is often worth far more than its face value.

Technical data about Silver Britannia: Mint: British Royal Mint; Denomination: 2 £; Precious Metal: Silver 999/1000; coins minted before 2013: Silver 958/1000; Weight: 31.103 grams=1 ounce; coins minted before 2013: 32.45 grams; Diameter: 38.61 mm; Edge: notched

Front Motif: The front side of this coin features an image of Queen Elizabeth II. It was designed by Ian Rank Broadley, and to the right of the coin is a Latin phrase that means "Queen by the Grace of God."

Reverse Motif: The reverse of this coin features the victorious Goddess Britannia wearing a historical helmet and bearing a shield and a trident. It also features the coin's weight, purity, country of origin and year of mintage.

You can see the historical prices for the Britannia in the chart section.
Subsequent is the price comparison: Buy Britannia silver coin.
Images for Britannia
Courtesy of APMEX.com
Silver price Chart - Britannia 1 ounce
Chose the desired time period:
All product ratings for Britannia
Unfortunately there are no reviews for this product yet.
Submit first rating now
Other products of manufacturer Royal Mint
Advertisement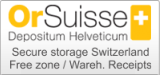 Price comparison
Gold coins (15)
Gold bars (11)
Silver coins (13)
Silver bars (6)
VAT free Silver (2)
Platinum coins (3)
Platinum bars (2)
Palladium coins (1)
Palladium bars (2)
Advertisement